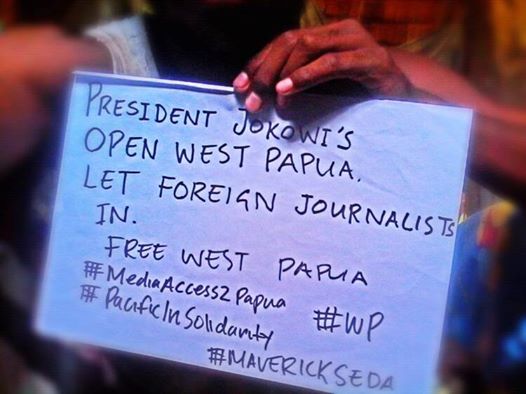 Hand written - Pacific press standing by colleagues in West Papua.
3rd May 2017 *
Rarotonga, Cook Islands
#wpfd2017 #pressfreedom

FOR IMMEDIATE RELEASE
Enemies of the press - foreign and domestic - are behind the failure of Indonesia to live up to press freedom promises for West Papua, says PFF, the Pacific Freedom Forum.
"Indonesia can now be confirmed as a failed state when it comes to freedom of expression," says PFF Chair Monica Miller.
"President Joko Widodo promised open access for foreign press to West Papua two years ago, but today sees another World Press Freedom Day without progress."
PFF joins RSF, Reporters Sans Frontieres, in condemning Indonesia's "double-dealing" hyprocrisy. The RSF report joins those from Human Rights Watch, Amnesty International, Freedom House and others noting declines in press freedom in Indonesia, regionally, and worldwide.
"Government of Indonesia obviously feels safer dealing with a press fail in Jakarta than risk fully exposing security forces' endless brutality in West Papua."
PFF is calling for efforts to "redouble" support for press freedom in West Papua.
"Foreign press unable to get into West Papua should instead focus beyond national borders to include the many foreign investors in Indonesia."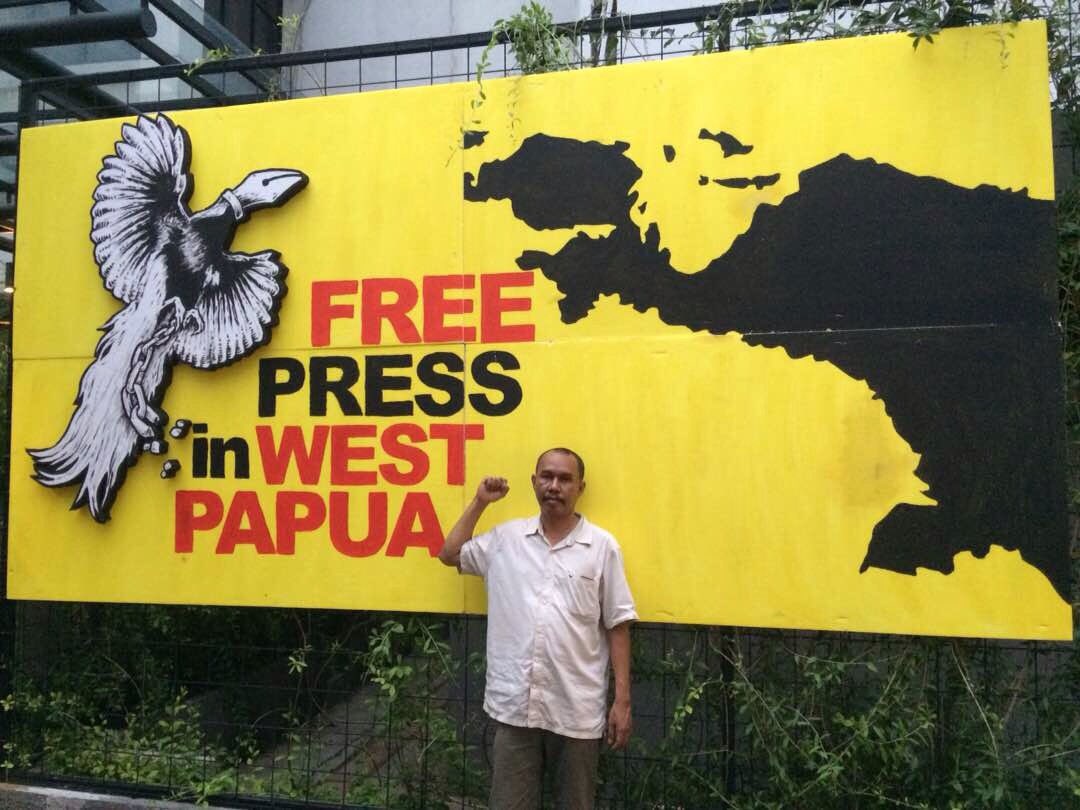 Fist for freedom – a Papua press campaigner, Victor Mambor, pictured in front of a free press poster. Image / Twitter
In recent days, weeks and months, PFF notes Indonesia;
> arresting of hundreds of people in West Papua, and assaults on dozens, including journalists,
> entering its five yearly Universal Periodic Review at the United Nations Human Rights Council, due by 12th May,
> BPS, the central statistics agency, reporting that West Papua is still at the bottom of HDI rankings on the national Human Development Index - despite domestic and foreign owned companies reaping billions from the two eastern provinces each year,
> blocking of at least eight legitimate news sites, and,
> continuing to fail at arresting, charging and prosecuting security forces who arbitrarily detained and assaulted thousands of West Papua protestors exercising their right to freedom of expression.
Since WPFD last year, there has been strong support from Pacific Island states for a United Nations rapporteur on Freedom of Expression to look into abuses in West Papua.
Reflecting on the official WPFD theme of 'critical minds for critical times', Miller commented that "Indonesia is just one example of a critical time for press freedoms, and critical minds must think global and act local."
Bright point
Outside of West Papua, PFF Co-Chair Alexander Rheeney says that a bright point was the announcement on World Press Freedom Day of a media ombudsman in the Solomon Islands.
"We are excited that the Solomon Islands has taken up a concept PFF raised in 2013 and has started to put that idea into action.

"There will of course be challenges for any media ombudsman but our hope is that news media report on steps to ensure such an appointment is made independently."

In that respect, PFF also welcomes the selection of an independent board for a media council in Samoa.

"Board members have yet to meet their first ethics test, but the first step taken by Samoa proves government is, so far, keeping it's hands off."

Suspension, shut down threats
Showing ups and downs across the region, Tonga improved in global rankings but has ended the press freedom year with a reported suspension from the public broadcaster, amidst threats to shut it down completely.
"The government of Tonga needs to keep reminding itself that criticism is not a controversy, and that not all criticism needs to be constructive to qualify as free speech."
Short wave bye
Undoubted low point for regional press freedom was the scrapping of shortwave services from Radio Australia.
"Australian Broadcasting Corporation appeared to have forgotten its own promise to improve engagement with the Pacific region," says Rheeney.
PFF has gained more than 1,000 signatures in support of restoring short wave, including from leading politicians, officials and private sector managers.
"It is to be hoped that public hearings into restoring shortwave broadcasting are met with support in parliament."
"If not, Australia again needs reminding by the international community to remember its own backyard."
Contempt
Another Australian low point was blocking of Papua New Guinea media from asking questions at prime ministerial press conferences.
"This shows contempt for the role of a free press."
Troubling law changes in Australia and New Zealand open up domestic surveillance laws to include journalists, says Rheeney, as well as punitive measures against whistleblowers.
"As regional leaders, both countries are taking increasingly hostile actions against news media and the rights of citizens to access information."
Next 12 months
For years, Rheeney says that PFF members have warned about a crisis in journalism, and now global press freedom surveys have finally begun to admit that's not just a third world problem.
Over the next 12 months, PFF remains focused on the region's leading issue, freedom of expression within West Papua.
Other initiatives include continued consultation on media freedom, and ethics, across the Pacific Islands region.
NOTE :
PFF publishes it's statements from the dateline of original registration, in the Cook Islands, one of the last places in the world to celebrate World Press Freedom Day, followed by Niue, and, the very last, American Samoa.


NEXT :
Sign PFF petition to restore ABC shortwave - 5th May 2017 deadline
https://www.change.org/p/abc-chair-hon-james-spigelman-save-lifesaving-shortwave-radio-to-the-pacific

WPFD HEADLINES :
Indonesia is double dealing on media freedom - RSF
http://asiapacificreport.nz/2017/05/03/indonesia-is-double-dealing-on-media-freedom-says-rsf/
No talk of Papua at press freedom day
http://www.thejakartapost.com/news/2017/05/03/no-talk-of-papua-at-press-freedom-day.html
Violence against Indonesian journalists remains worrying
http://www.thejakartapost.com/news/2017/05/03/violence-against-indonesian-journalists-remains-worrying-aji.html
Jakarta urged to ensure against journo attacks
http://www.radionz.co.nz/international/pacific-news/329850/jakarta-urged-to-ensure-against-journo-attacks
Indonesia under pressure during universal periodic review and world press freedom day
https://www.freewestpapua.org/2017/05/03/indonesia-under-pressure-during-universal-periodic-review-and-world-press-freedom-day-over-record-in-west-papua/
Media Freedom critical for Human Rights struggle in West Papua - PANG
http://www.pina.com.fj/?p=pacnews&m=read&o=314963637590931712737082a01f66
Human Development Indicators for Papua https://en.tempo.co/read/news/2017/04/18/056867174/BPS-Human-Development-Gap-Still-Exists
In 'post truth' era, leaders must defend objective, independent media, UN says on Press Freedom Day
http://www.pina.com.fj/?p=pacnews&m=read&o=756553951590a4c50dda925289c1b0

CONTACTS
Monica Miller
PFF Chair
News Director
South Seas Broadcasting
American Samoa
monica@southseasbroadcasting.com
+6842584197
Alexander Rheeney
PFF Co-Chair
President Media Council PNG
Papua New Guinea
alexander.rheeney@outlook.com
+67578045266
Bernadette H. Carreon
PFF Co-Chair
Palau Correspondent
Guam Business
carreon.bernadette@gmail.com
+680779430
Netani Rika
PFF Coordinator
Communications Director
Pacific Council of Churches
Fiji
netrika66@gmail.com
ABOUT PFF
The Pacific Freedom Forum is a regional and global online network of Pacific media colleagues, with the specific intent of raising awareness and advocacy of the right of Pacific people to enjoy freedom of expression and be served by a free and independent media. We believe in the critical and basic link between these freedoms, and the vision of democratic and participatory governance pledged by our leaders in their endorsement of the Framework for Pacific Regionalism and other commitments to good governance. In support of the above, our key focus is monitoring threats to media freedom and bringing issues of concern to the attention of the wider regional and international community.
. . .